Porcelain Veneers Near You
One of the most common dental procedures performed at our clinic is porcelain veneers. We offer porcelain veneers in downtown Yaletown Vancouver, a long-lasting restoration that can completely transform your teeth for a bright, beautiful, and healthy smile.
What are Porcelain Veneers?
Our office offers porcelain veneers near you comprised of very-thin, customized shells of ceramic. The veneers are bonded to the front of your teeth and mimic the translucent properties of tooth enamel for natural-looking results. Additionally, the colour of your porcelain veneers can be matched to the shade of adjacent teeth, which ensures they blend in seamlessly with your smile.
What Dental Issues Can Veneers Address?
Porcelain veneers can correct numerous aesthetic issues that range from minor imperfections to severe problems that affect multiple teeth.
Patients may opt for porcelain veneers in Yaletown Vancouver, BC, V6B 3E6 for the following reasons:
They have uneven teeth.
Their teeth are chipped or cracked.
They have severely worn teeth.
They have gaps and spaces between their teeth.
They have crooked or misaligned teeth.
They have stained or discoloured teeth.
They have misshaped teeth.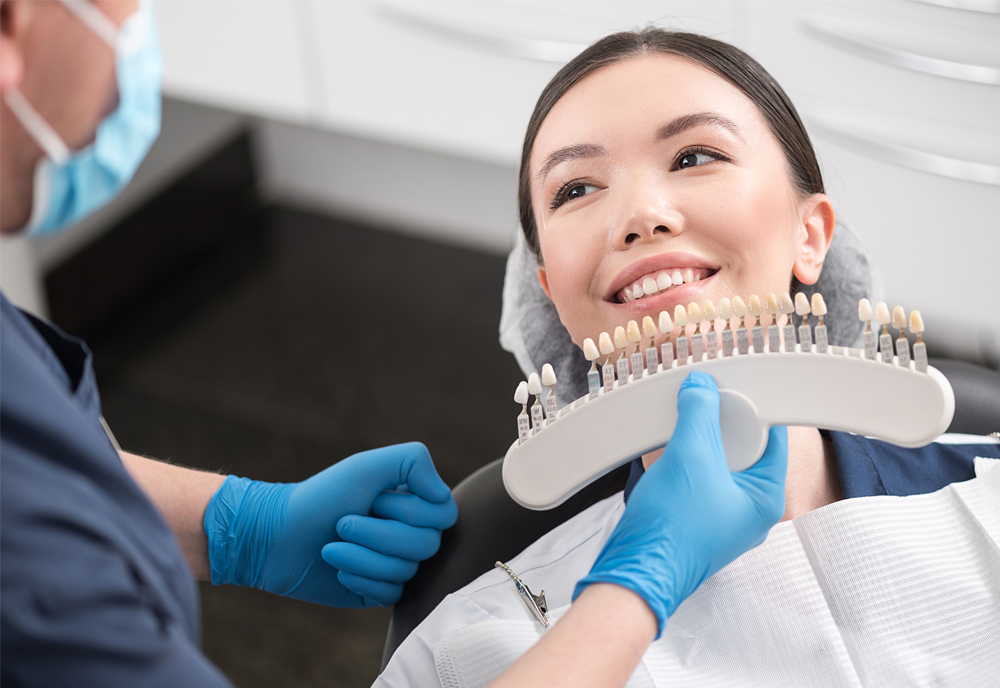 Am I a Candidate for Porcelain Veneers?
If you would like to improve the appearance of your teeth and suffer from one or more of the cosmetic dental issues listed above, contact our dental clinic near you. During a consultation for porcelain veneers in Yaletown Vancouver, BC, V6B 3E6, your dentist will provide a comprehensive assessment of your teeth and determine if this is the best cosmetic dental option for you.
The Benefits of Porcelain Veneers
Porcelain veneers offer you:
Beautiful and natural-looking results.
A long-lasting cosmetic improvement.
Customizable treatment.
Restored strength and function of your teeth.
Simultaneous correction of several aesthetic flaws.
Stain-resistance.
The Procedure for Porcelain Veneers
If you are interested in receiving porcelain veneers in downtown Yaletown Vancouver, the process will take three visits, which include diagnosis/planning, preparation, and bonding.
At your first visit, you and your dentist will begin the planning of your treatment. During this appointment, you will discuss your smile concerns and goals. When you return for your second visit, your teeth are prepared for the placement of the veneers and an impression will be taken of your teeth. This impression will be used to design your veneers, which will be ready for installation on your third and final appointment.